Spontaneous combustion caused Farnham barn fire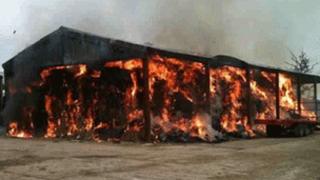 A fire which destroyed a barn in Farnham containing 800 tonnes of hay was caused by spontaneous combustion, investigators have ruled.
They say the closely-stacked bales at Potts Farm reached 90C and once alight took 30 firefighters to put out.
Farmer Matt Luard estimates it cost him £100,000 plus the building's value.
Slightly damp hay and straw can cause spontaneous combustion when naturally occurring bacteria are activated which generate heat which cannot escape.
Surrey Fire and Rescue manager Bryn Strudwick said: "Spontaneous combustion is rare but can be a real danger for farmers, a few simple steps can help to protect against the devastation this can cause to buildings and businesses."
Fire experts advise farmers to regularly check hay temperatures with a thermometer in the first few weeks after harvest.
Hay is at risk of spontaneous combustion when it is too damp while baled or gets wet after baling.