'Bradley Wiggins effect' warning to motorists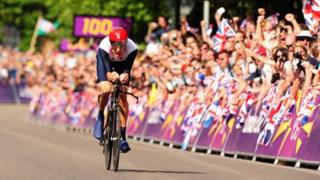 Motorists are being urged to take extra care as cyclists attempt to emulate Bradley Wiggins and ride the Olympic cycle routes in Surrey.
Surrey Police said there were extra bikes on the county's roads and urged road users to respect each other.
The force posted on Twitter: "Planning a nice drive in the Surrey Hills? There will be more cyclists than usual out there so expect them."
Hundreds of thousands of people turned out for the road races and time trials.
Wiggins won gold in the men's time trial event on Wednesday.
The force also urged cyclists to be sensible on their bikes, adding: "Great to see people enjoying the Olympic road race route yesterday [Saturday]. Remember - Bradley had closed roads, so take it easy."
Cycling campaigners and clubs in Surrey have been bracing themselves for a "Wiggins effect" riding craze.
Hotels and tourist organisations in Surrey have already taken bookings for next year from cyclists who want to ride Olympic race routes.
The cycle road race on the opening weekend of the Olympics took riders from the Mall, through west London, out to Surrey and back again, and included a 9.6-mile (15.5km) circuit around Box Hill.
On Wednesday, the cyclists in the time trials started at Hampton Court Palace before heading south over Hampton Court Bridge and into Elmbridge and passing through several towns and villages.