Olympic cycling time trials give Surrey a further boost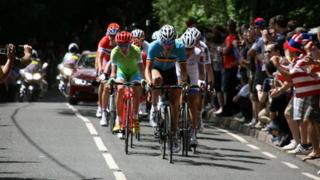 The Olympic cycling time trials will give Surrey a further boost after Team GB's medal win, the council has said.
Hundreds of thousands of spectators lined the streets at the weekend to watch the road cycle races and Lizzie Armistead won a silver medal on Sunday.
The men and women's individual time trial events take place in the county on Wednesday.
Helyn Clack from Surrey County Council said: "I think people are now going to be very excited."
Ms Clack, Surrey County Council (SCC) cabinet member for the 2012 Games, added: "Lizzie getting that silver was just so wonderful. It gave us even more of a boost."
Following the women's road cycle race some spectators encountered delays leaving Box Hill after heavy rain made the descent difficult.
There were also complaints that motorists were driving on roads before they were reopened.
"We're urging people to plan ahead to enjoy the Olympic time trial on Wednesday. This will help us minimise the inevitable disruption that staging events of this size causes," said Ms Clack.
During the time trial, riders will race against the clock, starting at Hampton Court Palace before heading south over Hampton Court Bridge and into Elmbridge.
The route takes in several towns and villages including Thames Ditton, Weston Green, Esher, Hersham and Cobham as well as Kingston and Richmond.
The men's route also goes through Teddington and East and West Molesey.
SCC said extensive road closures and parking restrictions would be in place around the time trial routes from the early hours of the morning and that people should check SCC's Go Surrey website for details.