London 2012: Crowds expected to flock to see Tour stars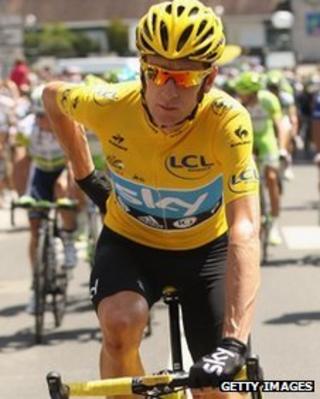 The success of British cyclists in the Tour de France is likely to draw even bigger crowds than previously expected to London Olympic events in Surrey.
Winner Bradley Wiggins and Paris sprint victor Mark Cavendish, along with Chris Froome, David Millar and Ian Stannard will be competing on Saturday.
"What an amazing result for Great Britain," said councillor Helyn Clack.
"We were always expecting thousands of people but with all the publicity, even more are definitely on the cards."
Ms Clack, Surrey County Council (SCC) cabinet member for the 2012 Games, said she was delighted to see the Olympic rings on Box Hill featured in TV coverage of the Tour de France.
The sculpture, about the same size as the Olympic rings suspended from Tower Bridge in London, was unveiled last week in time for the Olympic Torch Relay through the county.
The road races on the opening weekend of the Olympics will take cyclists from the Mall, through west London, out to Surrey and back again, and include a 9.6-mile (15.5km) circuit around Box Hill.
Cavendish is hoping to win Team GB's first Olympic gold medal in the men's race on Saturday. The women's road race is the following day.
The cyclists will cross the county border into Surrey at Hampton Court, and SCC will be putting in place 42 miles of barriers, 5,000 traffic cones and 4,000 road signs to implement the 545 road closures needed.
"They are already in the strategic places where they need to be," said Ms Clack.
"It is a huge job. We have to create a massive Olympic venue from scratch."
She said the council had sent leaflets to residents and businesses to explain what would happen and that more information was available on SCC's Go Surrey website
"We are trying to get the message out that people are going to have to plan ahead because there are going to be a lot of road closures," she said.
Roads will begin closing from 04:00 BST on Saturday and 06:00 BST on Sunday.
Ms Clack said residents were advised to "stay local" during the events and work out the nearest point where they could go to watch so they could walk or cycle.
"People should work out where car parking and cycle parking is," she said.
Surrey Police estimate that 161,000 people turned out to see the Torch Relay in the county on Friday and Ms Clack said it illustrated the economic benefits of London 2012.
"People were buying ice creams and going into the shops and restaurants."
"The road races have already brought huge economic benefits to the county, with £1bn worth of contracts awarded to businesses."