Runnymede Magna Carta visitor centre lottery bid rejected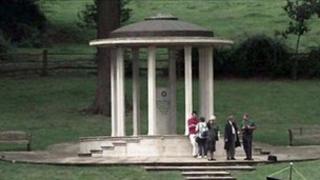 A bid for lottery cash to fund a visitor centre built on the site of the sealing of the Magna Carta has failed.
Runnymede Council applied for £3,843,000 from the Heritage Lottery Fund to build the permanent centre on the site, near Staines, in Surrey.
It was intended as a legacy following celebrations in 2015 to mark the 800th anniversary of the Magna Carta.
The council said it would now consider "alternative funding options".
'Very disappointed'
The Magna Carta was signed by King John in Runnymede Meadow in 1215.
The treaty marked peace between the king and the barons who were in revolt against him and set out the principles of freedom under the law.
The council's chief executive, Paul Turrell, said: "Understandably we are very disappointed to hear that we have been unsuccessful in our bid for Heritage Lottery Funding for this project."
He added that a meeting would take place on 26 July to consider alternative funding.
It was originally hoped that 50% of the money would come from the lottery and 50% from sponsors.