Olympic torch: Deal Channel swimmer's relay is 'icing on cake'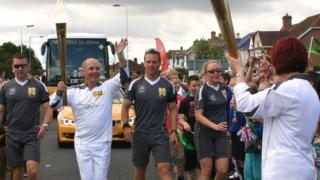 Carrying the Olympic flame has been the "icing on the cake of a wonderful career" for a torchbearer from Deal.
Long-distance swimmer Joseph Smith was the first British pensioner to swim the English Channel, aged 65, in 1999.
Mr Smith, now 78, was nominated to be a torchbearer by his son who flew back from his home in Thailand to watch his father in the relay.
Carrying the torch through the village of Cliffsend near Ramsgate was "out of this world", said Mr Smith.
'Words aren't enough'
Mr Smith's swimming career spanned decades and, although he no longer competes, he swims in the sea every morning along the coast at Deal to keep fit.
At being selected to be a torchbearer he said: "This is the icing on the cake for me because I'll not compete again so this is a nice way to finish."
Waiting for him to arrive for his part of the relay, friends and family gathered by the Viking Ship in Pegwell Bay in Cliffsend.
His wife of 57 years, Marlene Smith, said: "I feel quite nervous, I think this is going to be quite emotional."
Joe Smith's son, Andrew, said: "We have flown from Thailand just to see him do his run because it is such a special thing, it's a long way but well worth it."
Helen Burke, Andrew Smith's partner, said: "We are really, really proud, words aren't enough. He's an inspirational man, not only in the water but for all the charity work he does.
"He's just a light in anyone's life and a truly wonderful individual and I feel proud to be here."
Torch donation
Mr Smith's dedication to swimming has resulted in his inauguration into the International Swimming Hall of Fame in Fort Lauderdale in the US.
He said: "As you go through the door there's Mark Spitz, Johnny Weissmuller, Esther Williams - all the top swimmers and you've got all these wonderful names and then on a little plaque on the wall is Joe Smith."
Mr Smith was the second of three torchbearers running through on Cliffsend and crowds lined the streets waving their union jacks and cheering him on as he ran.
Afterwards he said: "That was wonderful - there was so many people all clapping, all cheering - I can't speak it was absolutely out of this world."
Torchbearers have the opportunity to buy their torches to keep as a memento of the day. However, Mr Smith is going to give his to Dover Museum where he has spent the last seven years working as a volunteer researching the history of cross Channel swimmers.
"Dover Museum would like one," he said. "They've got one from the 1948 Olympics, so Marlene and I have bought this one and we are going to donate to the museum."
When comparing being a London 2012 torchbearer to completing his cross Channel swim in 1999, Mr Smith said: "This was a lot more exciting - I loved every second of it and didn't want it to finish at the end.
"It's been a lovely, gorgeous day I wouldn't have missed it for anything."