Band's 4am name prompts licensing officer and police visit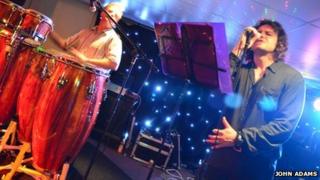 Confusion over a band called 4am and the time the group was due to perform on stage, prompted a visit from licensing officers and police to a local pub.
The Feathers in Laleham, Surrey, had advertised live music "from 4am".
Two licensing officers and two police officers visited the pub the day before to stop the performance, before being told it was the name of the band.
The pub's licensee, Kate Dillon, said she was "speechless" after the visit.
She said: "I was angry more than anything on the day. We've never had any need to call the police or had any trouble.
"If one official turns up that's funny enough, but if four people come into the pub like they did, it's absolutely ridiculous.
"When I calmed down a bit I thought it was absolutely hilarious. They made idiots of themselves really."
'Waste of money'
The two-piece band, of Joe Becket and John Adams, was named after a track by jazz musician Herbie Hancock.
Ms Dillon said she worried her customers would be put off from drinking in the pub after the arrival of the police officers on 1 June.
She added: "Why did they need to come around instead of calling me first? It's a waste of taxpayers' money."
A spokeswoman for Spelthorne Borough Council said: "Following a visit to the Feathers, there was no cause for concern.
"The visit was carried out following seeing an advertisement which mentioned 4am. On investigation, this was part of the name of the band.
"Licensing staff often make such visits, either pre-arranged or not and the Feathers was one of a number of premises visited that night."