Twitter blessings offered for pets at Camberley church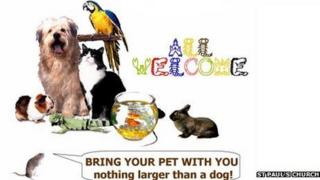 Pet blessings via Twitter are being offered by a Surrey church as part of two special services.
St Paul's Church, Camberley, has asked people to send photos of their animal companions through the social networking site.
The Reverend Claire Isherwood plans to ask owners questions via Twitter on Sunday before giving thanks for their pets and those in the church hall.
The two interactive service are being held between 09:45 and 11:45 BST.
'Two sparrows'
Andy Salt, the church's social media officer, said: "Our pets are all part of God's wonderful creation, and an important part of the family.
"As it says in Matthew 10:29, 'Are not two sparrows sold for a penny? Yet not one of them will fall to the ground outside your Father's care'.
"Since animals can't normally go to church, we reserve one day a year as a special day to include them and bless them."
He added: "We wanted a way to open up St Paul's to the people in the wider community, so everyone can take part in our annual pet service, not just those physically present.
"We have formed good relationships in our parish using Twitter, so it's the obvious way to hear about people's pets.
"We are hoping zoos and wildlife sanctuaries will also take part and tell us about their more unusual animals too."
Parishioners planning to take their pets to St Paul's have been asked to take no animals larger than a dog.