Surrey Police ice hockey team run London Marathon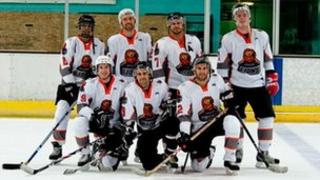 A team made up of members of the Surrey Police ice hockey squad have donned their kit to run the London Marathon.
The seven members of the Surrey Lions were raising money for the Crimestoppers charity.
Sgt Karim Tayar said: "We have to contend with the extra weight of the kit which will add about seven kilos."
Ch Supt Gavin Stephens, dressed as a referee, joined the team members who have already raised £7,000 towards their target of £20,000.
Mr Tayar said: "This will be an enormous challenge for us.
"One of the complications we have noticed during training is being able to take on board water and energy tablets with the big gloves on - let alone holding an ice hockey stick with one hand."
The team, consisted of Sgt Karim Tayar, PC Glyn Leighton, PC Dale Hathaway, PC Jay McLeod, PC Tom Brown, Karl Loveday, and Dean Leighton. Six members of the team finished in 5 hours and 49 minutes.
Crimestoppers is an independent charity helping to find criminals and solve crimes.