Guildford bonfire riot sculpture rejected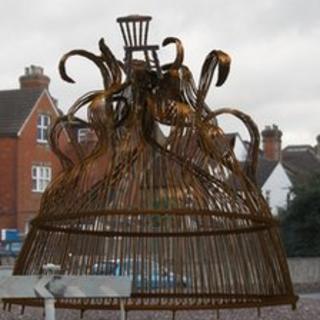 Plans for a public art installation commemorating Guildford's bonfire society past have been rejected.
Guildford councillors turned down plans for a 16ft (5m) steel sculpture of a chair in flames because of concerns it would attract crime and disorder.
A report recommended refusal because of fears of anti-social behaviour.
Theresa Smith, the artist who designed the installation, had said it would be "perfectly placed" opposite the police station.
Ms Smith, who created the design for Electronic Arts in Onslow Street, had said she wanted to mark a moment in Guildford's history when rural traditions of bonfire became frowned upon as the town became more middle class and urbanised.
'Wild celebrations'
The installation had included an empty chair which would traditionally have held a Guy Fawkes effigy - the empty chair was to pose the question: "Who would be the Guy of today?"
But Surrey Police and the council raised concerns the sculpture could attract vandals.
Council officers said the chair design would lead to people sitting in it, trying to climb the structure and placing items on it.
From the 1820s to 1860s, the town's Bonfire Night celebrations were notorious.
The local bonfire society, the "Guildford Guys", orchestrated wild celebrations and plundered the town for anything that would burn. The event was suppressed in the 1860s.