Virgin Care to run Surrey community health services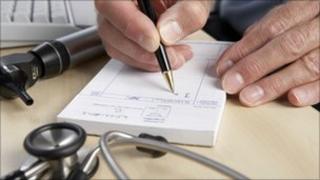 Community health services in two areas of Surrey are to be run by a private company in a £500m deal.
NHS Surrey said the contract signed with Virgin Care also included some county-wide services such as prison healthcare and sexual health services.
Virgin is to manage community services in south west and north west Surrey.
Anne Walker, chief executive of NHS Surrey, said it was "excellent news" but Unison said it had concerns about NHS privatisation.
Virgin will manage services but lease premises from the NHS under the deal, which will run until 2017.
NHS Surrey said patients would continue to be cared for by existing staff, who had been fully involved throughout the procurement process.
'Profit over care'
Services involved include seven Surrey community hospitals, community nursing and dentistry, health visiting and physiotherapy, diabetes treatment and renal care.
"This is excellent news for patients, carers and staff in Surrey," said Ms Walker.
"This contract signed with Virgin Care will bring best quality, safety and value for Surrey's NHS patients, carers and taxpayers."
But public service union Unison said it had concerns over the privatisation of the NHS and fears of profit over care.
"The services that Surrey's million-plus population access through their GPs, including community nursing, therapies, end of life care and sexual health screening, will now be provided by a private company," it said.
Regional organiser Sarah Hayes said: "Both staff and the public do have fears over what this means for the future of the NHS.
"Unison is keen to now work with Virgin Care to ensure that quality health services for all are maintained across Surrey and to support staff in continuing to provide care and a vital service for all patients."