Surrey wildfire alert after Brookwood Cemetery blaze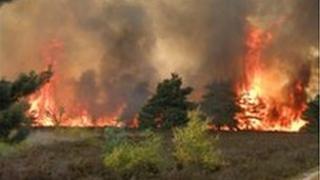 A blaze which affected 17 acres of Britain's largest cemetery has led to fire service warnings of more wildfires as dry weather continues.
Surrey County Council and Surrey Fire and Rescue Service have both issued safety warnings due to the drought.
Gavin Watts, from the fire service, said there was a higher risk during hot spells and the county had seen significant fires in the past.
Investigations into the fire at Brookwood Cemetery are continuing.
Woodland area
Mr Watts said: "During hot spells we are at a heightened risk of fires and we have in the past experienced significant fires in Pirbright and on Thursley Common and other areas.
"We're very keen to urge people during this incredibly warm weather, which people like to get out and enjoy, that they're just very careful when they discard cigarettes or if they're thinking of an impromptu barbecue."
At the height of the incident at the cemetery near Woking, the fire service had 40 firefighters at the scene with six fire engines, two all-terrain vehicles, four supporting Land Rovers and two large water tankers.
The fire happened in a wooded area and crews fought to stop the blaze from spreading.
"Our main concern always - with what we term a wildfire - is the rapid rate that the thing can spread," Mr Watts said.
Surrey County Council leader David Hodge said events such as the Olympics and Diamond Jubilee would provide the perfect opportunity for lighting up a barbecue and urged people to be careful.