London 2012: Drought threat to Olympic summer plants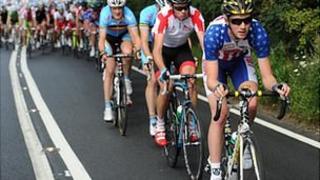 Summer planting could be removed in a Surrey borough after the London 2012 cycle races have ended, to save water.
Reigate council has outlined steps it is taking to reduce water use after a hosepipe ban comes into force in April.
Measures include collecting rainwater in three tanks at the council's Earlswood depot and using it to irrigate planters.
The council is providing red, white and blue summer planting for the Olympics and the Queen's Diamond Jubilee.
A statement said: "Once the Olympic road cycling races are over, we will decide on whether to continue with the planting or remove it then to save water."
Other water-saving measures planned by the authority include only washing vehicles for hygiene and safety reasons and reviewing street sweeping to cut the amount of water used.
The council said it was keeping measures under review and working closely with Sutton and East Surrey Water and the Environment Agency.
The 2012 Olympic cycle road race takes cyclists through London and then out to Surrey and back again. It includes a 9.6-mile (15.5km) circuit around Box Hill and the National Trust's Zig Zag Hill.
The men's cycle road race will take place on 28 July and the women's cycle road race on 29 July. The road cycling time trials for men and women are being held in London and Surrey on 1 August.