Brookwood Cemetery fire: Staff say widespread damage avoided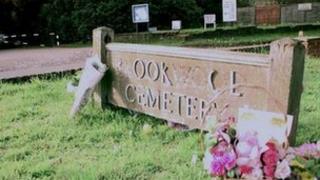 Widespread damage was avoided at Britain's largest cemetery following a grass fire on Tuesday, staff have said.
About 40 firefighters, six fire engines and other units were called to the fire at Brookwood Cemetery, near Woking, at 14:10 BST.
Historical consultant John Clarke said the majority of the affected area was heathland beyond the cemetery boundaries.
The cause of the blaze is under investigation.
'Sense of relief'
Surrey Fire and Rescue Service said no properties were affected by the blaze, which was brought under control two hours after it started.
Mr Clarke said there were "comparatively few memorials" in the area of the cemetery affected by the fire.
"I think personally there's a sense of relief that the fire did not spread further," he said.
Brookwood Cemetery was consecrated by the Bishop of Winchester on 7 November 1854 and opened to the public six days later.
It was established to solve the problem of overcrowding in London's existing burial grounds.
The cemetery is estimated to hold the graves of more than 240,000 people.