Crews tackle grass fire at Surrey's Brookwood Cemetery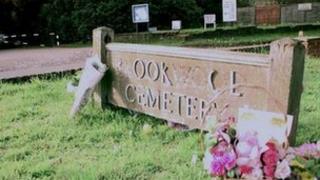 Firefighters have tackled a grass fire at Britain's largest cemetery.
About 40 firefighters, six fire engines and other units were called to the fire at Brookwood Cemetery, near Woking.
The fire, which started at about 14:10 BST, spread to an area of about 17 acres (seven hectares) at its height, Surrey Fire and Rescue Service said.
Fire crews were still damping down at the scene on Tuesday night, but the blaze had been brought under control, the fire service said.
Area manager Alan Clark said the current dry weather provided "perfect" conditions for wildfires.
He said: "The lack of rain and tinderbox dry conditions provide the perfect recipe for wildfires.
"Once they start they can spread quickly, making wildfires notoriously difficult to control.
"These fires cause devastation to the countryside, wildlife and property. They pose a risk to life, both to the public and the firefighters tackling these blazes."
Largest cemetery
When the alert was first raised, the fire covered an area of about 2.5 acres (one hectare) near Cemetery Pales, which runs through the site, Surrey Police said earlier.
The force advised motorists on Bagshot Road and Connaught Road to take care because of reduced visibility.
Brookwood was the largest cemetery in the world when it opened in 1854.
It was established to solve the problem of overcrowding in London's existing burial grounds.
It is estimated that it holds the graves of more than 240,000 people.
A special railway, known as the Necropolis Railway, was constructed to convey coffins and mourners to Brookwood from a station near London Waterloo.