Princess of Wales regiment marches in Surrey fundraiser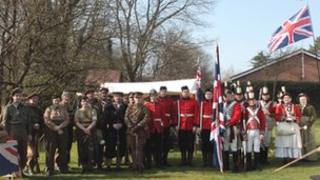 About 50 Princess of Wales's Royal Regiment (PWRR) soldiers, cadets and re-enactors have marched through Surrey.
The group presented arms to the Mayor of Waverley at the Red Lion pub in Godalming before marching to the Wheatsheaf pub in Bramley.
The event was to raise money for a Leonard Cheshire home in Godalming and the PWRR's benevolent fund.
The re-enactors represented the PWRR in different historical periods.
Military costume from the Napoleonic, Victorian, WWI and WWII was worn.
'Raising profile'
Sergeant Major Carl Fitz-Gerald, of the PWRR, said as the regiment's veterans get older it has fewer representatives in local communities.
He said: "People seem to have forgotten who we are and where we're from.
"We're getting our name back out there and raising our own image in the local community."
The PWRR recruits its soldiers from Kent, Sussex, Surrey, London, Middlesex, Hampshire and the Isle of Wight.
Landrat Dr Alexander Saftig, from Godalming's twin town Mayen-Koblenz in Germany, was also presented arms by the group.