Foundations for new Thames road bridge at Walton to be laid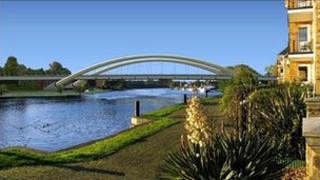 The foundations of a new road bridge over the River Thames in Surrey are to be laid in the coming weeks.
The £32m crossing between Walton-on-Thames and Shepperton is due to be completed by the summer of 2013 and will replace two temporary bridges.
Preparation work began in January, which included diverting pipes and creating temporary access roads.
Surrey County Council said it marked the start of "another chapter in the colourful history of the River Thames."
Residents can find out more at a meeting at 18:30 GMT on Wednesday at the Playhouse in Bridge Street, Walton.
The Department of Transport has agreed to invest £23.8m into the project with the rest of the money coming from Surrey County Council.
The scheme was approved in 2008 by the previous government but put on hold as part of the coalition's spending review.
The existing bridges will remain open until the new crossing is completed.