London 2012: Surrey newsletters for cycling road race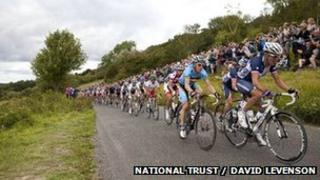 Residents and businesses within 100m of the Olympic cycling road race in Surrey will receive a series of newsletters detailing how the event will affect them.
The newsletters include maps of the route, details of road closures and advice for businesses.
The road race includes a 9.6-mile (15.5km) circuit around Box Hill before finishing in The Mall in London.
There has been controversy over possible plans to charge spectators.
Helyn Clack, Surrey County Council's cabinet member for community services and the 2012 Games, said she hoped the newsletters would help people prepare for the disruption.
She said: "We've been working hard for more than a year with everyone from residents and emergency services to local councils and community groups to ensure the success of the events while minimising disruption.
"I'd ask residents and businesses to read the newsletters carefully so any disruption they may experience is kept to a minimum as they will be directly affected by these Olympic events."
Locog CEO Paul Deighton had said that organisers were considering charging for the 15,000 tickets being allocated to the prime viewing point at Box Hill.
The news angered some local people, with members of Mole Valley Council claiming any profit should go to ensuring the Olympics leaves a legacy in the local area.
The Olympic cycling road races will be staged on the opening weekend of the Olympics, with the men's event taking place 28 July and the women's on 29 July.