London 2012: Surrey Olympic torch relay route announced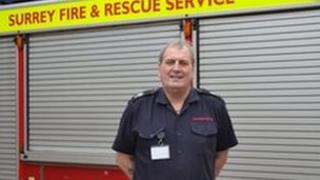 London 2012 organisers have revealed the street-by-street route the Olympic torch will take through Surrey.
Locog said torchbearers would run through a number of areas on Tuesday 10 July and Friday 20 July as part of a 70-day UK tour ahead of the Games.
The torch will be in Egham on 10 July and enter Surrey in Godstone at 13:42 BST on 20 July.
The second day culminates in a free ticketed event in Stoke Park, Guildford.
The UK's oldest full-time firefighter, 63-year-old Malcolm Styles, will be among the torchbearers in the county.
Mr Styles, who has been a firefighter for 34 years and will be on call through much of the Olympics, said his selection was a surprise.
"I feel very proud," he said.
"It's a real honour and I'm looking forward to carrying the torch for the Surrey Fire and Rescue Service."
Mr Styles, who is based in his home town of Reigate, has raised £40,000 for the Marie Curie Cancer Care charity since his wife of 26 years, Anne Marie, 47, died of the illness in 1997.
'Inspirational torchbearers'
His fund-raising feats included a coast-to-coast mountain bike ride and he has also won a gold medal at the World Firefighter Games.
During the 10-week relay the torch will travel about 8,000 miles.
After passing through Godstone after its second entry into Surrey, the relay will visit Bletchingley, Redhill, Reigate, Dorking and Guildford Cathedral.
The torch will also pass through Felbridge on 17 July as it travels between Crawley and East Grinstead.
Locog has endeavoured to slot all community torchbearers within an hour of their nomination address so family and friends can cheer them on.
The torch will arrive at the ticketed event some time after 18:30.
Councillor Jen Powell, from Guildford Borough Council, said: "We are hosting Surrey's only torch celebration event at Stoke Park.
"It will be a family-focused afternoon and evening, with an exciting stage show and lots of sports, arts and other activities to try out and enjoy.
"We look forward to welcoming the flame and the inspirational torchbearers to our borough."
The Olympic flame arrives in the UK on 18 May and begins its journey at Land's End the following morning.
Locog says the torch will be carried by 8,000 torchbearers and will pass within 10 miles of 95% of the population.
OLYMPIC TORCH RELAY STREET GUIDE:
Day 53, 10 July
Oxford to Reading
[57]
Day 60, 17 July
Brighton to Hastings
[56]
Day 63, 20 July
Maidstone to Guildford
[56]