Godalming museum celebrates Titanic hero Jack Phillips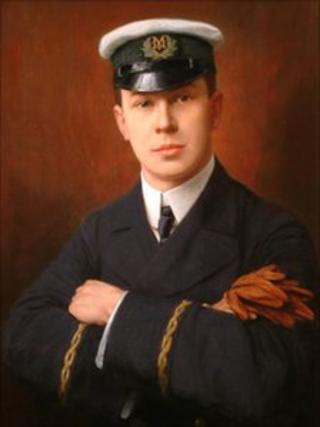 An exhibition honouring one of the heroes of the Titanic disaster has opened in his home town in Surrey.
Jack Phillips, the chief telegraphic officer on the ship which sank in 1912, went down with the vessel.
His last message was received three minutes before the Titanic disappeared in the Atlantic Ocean.
Godalming Museum's exhibition, which runs until 12 May, is one of a series of events in the town commemorating the centenary of the loss of the ship.
"Jack Phillips was a tremendous hero at the time," said curator Alison Patterson.
"His messages brought the Carpathia to people in the lifeboats and that is the reason they survived.
"Otherwise they would have died of exposure."
Peal of bells
Mr Phillips, who was 25 when he died, was born above a draper's shop in Farncombe, a village just outside Godalming.
He began work at Godalming Post Office at the age of 15, where he learnt Morse code, then moved to a job at Marconi.
Ms Patterson said the museum had been planning the exhibition for about three years.
Events in and around Godalming will culminate on 15 April with a memorial service at the Phillips family grave and a peal of bells at the Church of St Peter and St Paul.
An Edwardian picnic is being held later the same day near the town's bandstand.
A five year programme of work to restore and enhance the Phillips Memorial Park and Cloister is under way with the help of a £335,000 grant from the National Lottery.