Council gives Shepperton Eco Park extension approval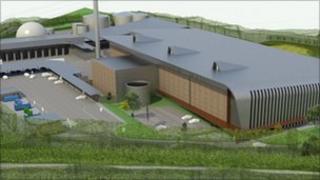 Plans to extend a waste and recycling plant in Surrey have been given the final go-ahead.
Proposals for the "Eco Park" at Charlton Lane, Shepperton, were backed by Surrey County Council earlier.
In December, they were called-in by the government, which decided no review was needed.
The centre, which will treat 100,000 tones of waste each year and generate power, was opposed by local people and the borough council.
Annually, it is expected to deal with 40,000 tonnes of food waste and 60,000 tonnes of household rubbish.
John Furey, of the county council, described the approval as "great news" for residents.
"The Eco Park will help us to treat food and household waste in a more cost effective and environmentally friendly way, while generating green electricity from rubbish that can't be recycled," he said.
"It will reduce the amount of waste we send to landfill which currently costs around £600,000 a month in taxes alone."
Residents living nearby had expressed fears the extension would lead to increased pollution and traffic problems.
Spelthorne Borough Council also objected to the plans.