Sacked Surrey councillor threatens legal action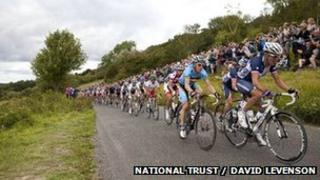 A senior Surrey county councillor is threatening legal action after he and a fellow member were sacked over their links to an Olympics hospitality firm.
Ian Lake and Denise Saliagopoulos were dismissed from their cabinet posts and referred to the standards committee by county council leader David Hodge.
Mr Lake says it was considered that their roles in the firm might represent a conflict of interest.
But he and Mrs Saliagopoulos insist they have done nothing wrong.
Mr Hodge announced on Tuesday that Mr Lake, who was responsible for roads and transport, and Mrs Saliagopoulos, who was in charge of the council's Olympics co-ordination, were being relieved of their posts.
He declined to elaborate other than to say that information he was presented with gave him no choice but to take action.
'No vested interest'
Mr Lake, who has been on the council since 1997, said he was appalled at the way the matter had been handled and believed he and Mrs Saliagopoulos had been unjustly maligned.
He said the row centred on their directorship of a consultancy company that offers Olympic Games hospitality packages to overseas visitors.
A number of countries - including the UK, US, Canada and Australia - have chosen to base their Olympic cycling training camps in Surrey.
As cabinet member for Olympic co-ordination in the county, Mrs Saliagopoulos has been a high-profile figure since Surrey was chosen as the route for much of the cycling road race - including a key section at Box Hill.
Mr Lake said their business, Charterhouse Chancery Ltd, was set up more than a year ago, although he did not declare an interest at County Hall until last month.
But he denied that he and his Conservative colleague had any vested interest.
"I can assure you we do not. Our company accounts are opened for scrutiny; [you] can see that the company has not traded."
He added: "I have taken legal advice today and I will be considering my position. The press release that went out... Clearly that is a reflection on both my character and Denise's character.
"We have nothing to hide and nothing to feel ashamed of."
Mrs Saliagopoulos, a councillor since 2001, said she had helped bring £740m of Olympics-related business to Surrey, and told the BBC: "I have served the cabinet - and the leader - very loyally. As far as I'm concerned, I have just been doing my job."
A council spokesman said Mr Hodge had nothing to add to his statement.