Surrey councillors forced to stand down from cabinet posts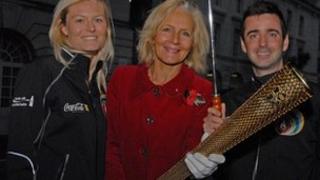 Two senior Surrey councillors have been forced to quit the council's cabinet.
County council leader David Hodge has told Ian Lake and Denise Saliagopoulos to stand down from their roles as members responsible for transport and the Olympics respectively.
Mr Hodge has referred both councillors to the organisation's standards committee.
Mrs Saliagopoulos said she did not know why she was being referred but had nothing to hide.
She told BBC News: "I have served the cabinet - and the leader - very loyally. As far as I'm concerned, I have just been doing my job."
Mr Hodge said in a brief statement that two replacement cabinet members would be appointed shortly.
Mr Lake, cabinet member for roads and transport, was elected to the council in May 1997. He represents Weybridge.
Olympics-related contracts
Mrs Saliagopoulos, who represents Staines, joined the council in June 2001.
As cabinet member for Olympic co-ordination in the county, she has been a high-profile figure after Surrey was chosen as the route for much of the cycling road race - including a key section at Box Hill.
A number of countries - including the UK, US, Canada and Australia - have chosen to base their cycling training camps in the county.
Married with a grown-up son, she works part-time for a London law firm.
She said: "I have helped bring £740m of Olympics-related contracts into Surrey. I shall continue to serve the county council and my constituents loyally and diligently.
"I walk with my head high today."
The council has so far declined to elaborate on its statement on behalf of Mr Hodge, which said: "I have today required Ian Lake and Denise Saliagopoulos to stand down from the cabinet.
"This decision relates to matters that are now being referred to the council's standards committee.
"Two new cabinet members will be appointed shortly."
Mr Lake has so far not been available for comment.