Frimley Park Hospital extension nearing completion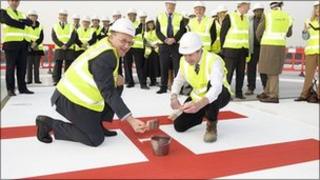 A £22m extension to a hospital in Surrey is nearing completion following a topping out ceremony to mark the construction of the highest point.
It took place at the site of a new helicopter landing pad being installed on the roof of Frimley Park Hospital.
A dedicated lift links the roof to the resuscitation area.
The extension will house the new emergency department and day surgery unit, which the hospital predicts will be one of the best in the country.
Construction work is due to be finished in mid June, with the emergency department scheduled to open soon after.
'Excellent service'
The hospital said the new emergency department would have eight resuscitation beds and separate rooms for all patients in the majors section.
There will also be two extra day surgery theatres.
Hospital trust chief executive Andrew Morris said: "Being a foundation trust has meant we can get on and do it without having to get approval from somewhere else.
"I'm really pleased with what we've done so far. It will be a real benefit for the hospital and most importantly for the 400,000 people who rely on Frimley Park for an excellent service."