Stephen Fry invited to discuss Surrey library plans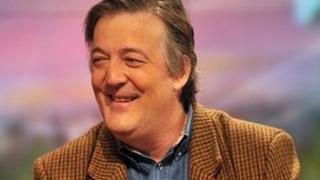 The leader of Surrey County Council has invited Stephen Fry to discuss its plans to replace paid staff with volunteers at some libraries.
Fry has urged his 3.9 million Twitter followers to help Surrey Libraries Action Movement (Slam) "fight the good fight" against their proposals.
The council agreed in September to devolve responsibilities to groups of volunteers at 10 libraries.
Councillor David Hodge said he did not believe Fry had all the details.
The Conservative-run authority has always maintained that the aim of its community library scheme is to try to keep Surrey's 52 libraries open.
'Happy to talk'
Mr Hodge said: "Perhaps when we've had a conversation, at the end of it, I would hope that Stephen would realise why we are doing this and what our objectives are.
"Perhaps he would like to come and meet some of the volunteers who are going to do this and then perhaps he might be in a position where he can then make a judgement from a constructive point of view.
"Stephen Fry is very welcome to come down to Surrey County Council and I'm happy to go and see him and we can talk about it."
On Friday, Fry tweeted: "Do help @surrey_slam fight the good fight for libraries and librarians. Give the price of a book: a fine cause."
Slam claims the council's consultation process over the changes to its library services was flawed.
The case went to the High Court after it issued legal proceedings and in January the court ordered a judicial review of some of the authority's plans.
The 10 libraries identified as possible community libraries were Bagshot, Bramley, Byfleet, Ewell Court, Lingfield, New Haw, Stoneleigh, Tattenhams, Virginia Water and Warlingham.
The High Court ruled plans to launch Byfleet library as a community library could go ahead.
The judicial review is due to begin later this month.