London 2012: Box Hill woodland scrub cleared for spectators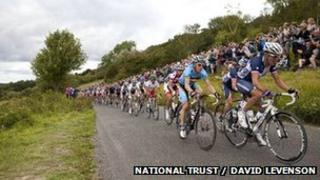 Work to let up to 15,000 fans watch the Olympic cycle road race at Box Hill in Surrey has been carried out.
The National Trust said woodland scrub had been cleared from both sides of Zig Zag Hill to create more grassland.
It hopes it will also encourage species such as small blue butterflies and man orchids to return to the area.
On Friday it was revealed spectators may be charged to watch the cycle race from the prime vantage point in Surrey.
London 2012 chief executive Paul Deighton told the BBC it would be "perfectly appropriate... to consider charging for the tickets" because of the work put in to create space for spectators.
The National Trust said the woodland scrub was cleared after the London Organising Committee of the Olympic Games (Locog), carried out wildlife surveys into the long-term management of the area's habitat.
'Battling woodland'
Andy Wright, National Trust countryside manager for Box Hill, said: "It's great news that so many people will be able to enjoy the races in this wonderful natural setting.
"Since traditional farming ceased in the 1930s, woodland has been encroaching on to the grassland at Box Hill and we've been battling to keep it back.
"The surveys conducted by Locog are the most thorough ever carried out on this site and they have really helped us understand the best way to manage the habitat for the long term.
"The scrub alongside the road has very few species living in it so after we removed it, it didn't matter if people walked in those areas.
"Gradually, over the years that land will turn back into chalk grassland which is a much richer habitat - supporting around 60 to 100 species of plants, animals and insects per square metre."
The Olympic road cycling race will start in The Mall in London and from Richmond the athletes head off on a large loop through Surrey taking in Walton on Thames, Weybridge, West Byfleet, West Horsley and Dorking.
The cyclists will ride a 15.5km (9.6 miles) circuit around Box Hill, including the National Trust's Zig Zag Hill.
The world's top riders will compete in the road race on 28 and 29 July.