Otters make a welcome return to Guildford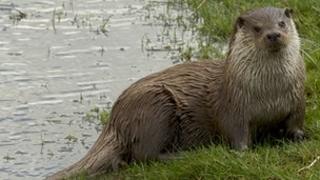 Growing evidence that otters are returning to Surrey is exciting wildlife lovers in the county.
Droppings found at two sites along the River Wey in Guildford are proof of the otter's return to the area after 16 years, says Surrey Wildlife Trust.
Although there has been evidence of a return farther south, recent discoveries of otter "spraint" in Guildford are the first since 1996.
A trust spokesman said: "This is a very exciting discovery."
The UK otter population is recovering after almost dying out in the 1970s, thanks mainly to environmental improvements and legal protection.
Tip-off
But the animals are still rare in south-east England, and the trust believes there are insufficient numbers yet in Surrey to provide a stable population.
The trust's wetlands landscape officer, Jim Jones, confirmed the otters' return after discovering the droppings following a tip-off from a member of the public.
He said: "Volunteer otter surveyors have been an essential part of tracking the animals' return to Surrey.
"It's very easy to confuse otters with the invasive non-native American mink - which is widespread throughout the county - but following... training, volunteers are able to determine visual sightings and distinguish the difference between otter spraint - which some say smells of jasmine tea - and mink scat, which smells awful."