Bottleneck removed from Hindhead village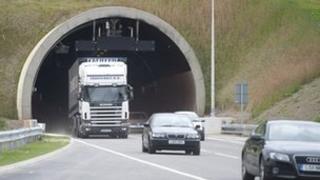 A "notorious" bottleneck in a Surrey village has been remodelled with mini roundabouts and wider footpaths.
Work to improve the old A3 through Hindhead village has been completed, following the opening of the nearby tunnel in July 2011.
When the tunnel and bypass were opened, work commenced to adapt the old road to make it more suitable for the traffic now using it, the Highways Agency said.
The 1.4 mile road, now called the A333, includes a series of mini roundabouts.
The agency said the work to replace the "notorious Hindhead lights" would "kick-start regeneration in the village, which had been blighted by traffic for decades before the new road opened."
The Hindhead tunnel opened on 27 July, following four years of construction.
A section of the A3 at the Devil's Punch Bowl was removed and it will seeded with grass and heather from the surrounding area before being handed over the National Trust.
With the Hindhead tunnel taking most of the traffic away from the village, the crossroads were removed and replaced with a double mini roundabout, and another mini roundabout installed at the Headley Road junction.
The works also included adding wider footpaths along the whole road.
Paul Arnold from the Highways Agency said: "Restoring tranquillity to Hindhead village is a big part of the new tunnel's legacy."