High Court orders Surrey library plans judicial review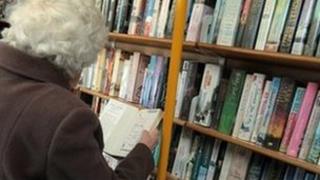 A judicial review of Surrey County Council's plans for some libraries to be run by volunteers has been ordered by the High Court.
The court also ordered that a temporary order would remain in place to stop the authority from taking any "irrevocable action" to implement the plan.
The case ended up in the High Court after Surrey Libraries Action Movement (Slam) issued legal proceedings.
Campaigners had claimed the council's consultation process was flawed.
Council 'disappointed'
After the High Court ruling, the campaign group said its case had been an "unqualified success on every point tested".
Lee Godfrey, Slam spokesman said: "Now, finally, the council's plans will be held up to the scrutiny they have lacked throughout.
"It's just a shame it's taken an appeal to the High Court to achieve this."
He said Surrey County Council must now surely reconsider its position.
Councillor Denise Saliagopoulos, cabinet member for community services, said: "It's important to say that the court has not passed judgement on our plans.
"This is just an order halting the process ahead of a hearing to look into our proposals."
She said the council had planned the community library scheme to try to keep Surrey's 52 libraries open.
She added: "Overall we're disappointed by the court's decisions. It is a particular shame for those volunteers who were looking forward to launching their own community-run libraries."
The 10 libraries that were identified as possible community libraries were Bagshot, Bramley, Byfleet, Ewell Court, Lingfield, New Haw, Stoneleigh, Tattenhams, Virginia Water and Warlingham.
The High Court ruled that plans to launch Byfleet library as a community library on Saturday could go ahead.
The judicial review is due to begin later this month.