Surrey council seeks libraries court order reversal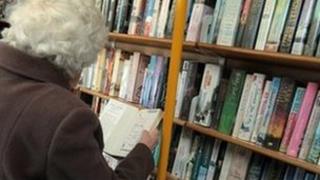 Surrey County Council has asked the High Court to reverse a temporary order blocking plans for some libraries to be run by volunteers.
It was told last Friday not to take any irrevocable steps to implement the plan until further order of the court.
The decision followed proceedings issued by Surrey Libraries Action Movement (Slam), which claimed the consultation process was flawed.
Council leader David Hodge said the plans offered libraries a good future.
"Our aim is to keep all of Surrey's 52 libraries open and help them to thrive, while elsewhere in the country libraries are closing," he said.
"The first community library is due to open in Byfleet in just over a week.
"Not only have volunteers put a lot of hard work into getting to this stage, but we believe these plans offer a good future for these libraries."
'Ambiguous decision'
Mr Hodge said the council had "received a lot of support from people that understand we are doing what is best for Surrey's libraries and the people who use them".
In a statement, the Conservative-run council said it was concerned that the temporary court order was "ambiguous and therefore should be reversed".
It added that it did not believe it prevented the authority from continuing to work with the volunteers who had come forward.
A hearing at the High Court to determine whether or not the injunction should be overturned is scheduled for next Thursday.
Under the libraries plans, volunteers will be able to take over the day-to-day running of 10 libraries, replacing paid staff.
The libraries are in Bagshot, Bramley, Byfleet, Ewell Court, Lingfield, New Haw, Stoneleigh, Tattenhams, Virginia Water and Warlingham.
The council has already dropped plans to hand over another nine libraries to volunteers.