London 2012: Spectator increase for Olympic cycling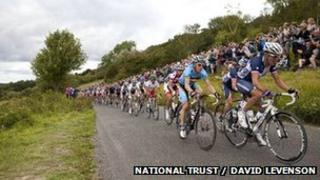 An extra 11,500 spectators could be allowed to watch the 2012 Olympic cycling race in an area of countryside in Surrey.
Box Hill has been touted as the "best vantage point" for the road race.
But concerns had been raised about the impact of spectators on many of the endangered insects and plants that live there.
However, the National Trust said work to accommodate the crowds would improve the habitat in the long run.
The trust, which owns the site, said it had carried out five months of detailed work with the London Organising Committee for the Olympic and Paralympic Games (Locog) and Natural England.
Following a test event in August, they believe 15,000 spectators will be able to watch from the hill, which is a Site of Special Scientific Interest (SSSI).
The men's race will loop around the hill nine times and women's race twice, with the most popular spectator point being along Zig Zag road and Donkey Green.
'Richer habitat'
Next week National Trust will begin work to safely remove scrub along the road.
According to the trust, this will not only allow for the increased capacity, but will also encourage chalk grassland to grow following the games, making more room for orchids and small blue butterflies to flourish.
Andy Wright, the National Trust countryside manager for Box Hill, said a recent survey was the most thorough ever carried out on the site.
He said: "The scrub alongside the road has very few species living in it so when we remove it, it doesn't matter if people walk in those areas.
"Gradually, over the years, that land will turn into chalk grassland which is a much richer habitat - supporting around 60 to 100 species of plants, animals and insects per square metre."
Zig Zag road will be closed for a week while the work is being carried out and the National Trust will also resurface the road in April.
The race route takes cyclists from The Mall, through west London and then out to Surrey and back. In total, the men's race will be 240km (149 miles) and the women's 130km (80.78 miles).