Mother thinks Deepcut soldier son died after 'prank'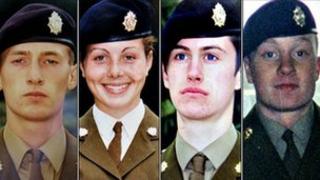 The mother of a soldier who died at Deepcut Barracks believes his death was a "prank that went terribly wrong" and has renewed calls for a public inquiry.
Yvonne Heath's son Pte James Collinson, 17, from Perth, was found with a single gunshot wound to the head at the Surrey army base in March 2002.
She said she did not believe anyone at the base had wanted to harm him.
The Ministry of Defence said it was unlikely that another inquiry would uncover any new evidence.
The family of Pte Collinson hope the 10-year anniversary of his death in March will renew pressure on the Army to reopen the investigation.
Ms Heath said she had been told that her son had been on patrol without a gun and had borrowed a gun from someone else, before later being found shot dead.
She said: "I don't believe that my son pulled that trigger but at the same point I don't believe anyone wished him dead.
"I think in the regime at Deepcut at the time there was very little supervision. I think some silly prank went terribly wrong."
'Inquiry unlikely'
Pte Collinson was one of four soldiers who died from gunshot wounds at the Surrey army base between 1995 and 2002.
Privates Sean Benton, Cheryl James, Geoff Gray and James Collinson all died from gunshot wounds.
A coroner recorded a verdict of suicide for Pte Benton - but the inquests into the other three returned open verdicts.
At the time of the deaths, there were allegations of bullying at the barracks.
In March 2011, Devon and Cornwall Police's report into the Surrey Police investigation said detectives did not properly consider a list of hypothetical suspects.
Surrey police said they had considered all possibilities for the deaths.
Following the report, Des James, Cheryl James's father, called for a public inquiry.
On Wednesday the Ministry of Defence said: "Our thoughts are with the families of those that died at this time. There have been a number of reviews into the sad deaths at Deepcut Barracks.
"It is unlikely that another inquiry will uncover any new evidence as Nicholas Blake's independent review of the evidence concluded a public inquiry into the immediate or broader circumstances of these deaths, is not necessary."
In response to the ministry's statement, Ms Heath said: "All these reviews took place after the Surrey Police investigation which was deeply criticised by another force.
"So when a flawed investigation is reviewed and no evidence is found it's hardly surprising."