Shalford residents raise concerns over traveller site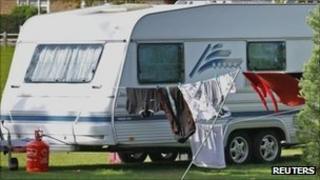 Hundreds of residents packed a public meeting called to raise concerns over a proposed site for gypsies and travellers in a Surrey village.
The former waste tip on green belt land at Shalford is one of three sites being considered for travellers by Guildford Borough Council.
Shalford councillor, James Palmer, said residents had a series of legitimate concerns about the choice of site.
Council leader Tony Rooth said there was an urgent need for caravan pitches.
"By providing more pitches we hope to help reduce unauthorised development and temporary planning permissions granted through the appeals process," he said.
"We want to address this issue properly in a planned way and listen to everyone's views."
The council is considering 32 pitches on land north of Stonebridge Depot.
It is also looking at an extension to the existing Ash Bridge site in Ash Road and land at Home Farm in Effingham.
All the sites are owned by the borough or county council.
Shalford Parish Council, which hosted Thursday night's meeting, said it was the highest turn-out it had ever seen.
"Clearly we have to provide sites - that is our legal duty," said Mr Palmer.
"But we feel that if we pick this site we might be just compounding previous errors by picking an unsuitable one.
"One of the concerns is whether we disturb contaminated land and release all sorts of unpleasant things into the environment.
"It is prone to flooding, there is no road access there and we think there are not enough local facilities."
Technical assessments on the suitability of the potential sites are to be carried out, and planning applications prepared if they are considered suitable.
The council is also to look for other potential sites for inclusion in its local plan by March 2015.