Runnymede council looks at Surrey Towers housing families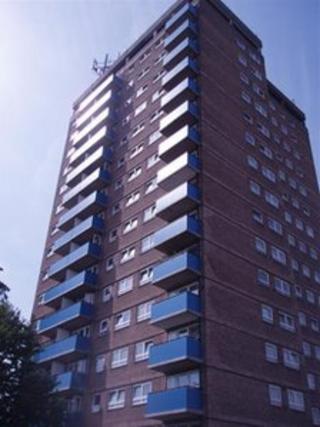 Rising demand for housing has led a Surrey council to consider lifting a restriction on allocating tower block flats to families with young children.
Runnymede council said two-thirds of the flats in Surrey Towers were of a size suitable for larger households.
The council said housing demand and homeless applications were rising and it needed to use all its resources to avoid excessive use of costly B&Bs.
Public consultation is being held before a final decision is made.
The council's head of tenant services, Ian Blowers, said: "The space in the Surrey Towers flats is very generous - in many cases there is more floor space than in some of our houses.
"We allow families to occupy other flats, so why not Surrey Towers?
"If we do not to use flats in Surrey Towers it will ultimately result in some families having to be placed in bed and breakfast, which is something the council avoids if at all possible."
The local authority said it had not used Surrey Towers for families for many years.
It also said research with neighbouring authorities had revealed that few councils, if any, restricted the use of their tower blocks.
The council said the arrangements were being proposed for new tenants and existing tenants would not be asked to move.