Runnymede council plans Magna Carta celebrations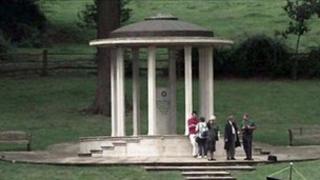 Celebrations to mark the 800th anniversary of the sealing of the Magna Carta in Runnymede are to be discussed at a public meeting in Surrey.
Runnymede council has set up the event on Tuesday to invite suggestions from organisations and individuals on how they can contribute.
The local authority is already investigating the possibility of a building a permanent visitor centre.
Chief executive Paul Turrell said a solid business case would be needed.
'Royal visit'
He said: "We have been told by the Heritage Lottery Fund that the type and quality of outreach work from the centre, involving schools, voluntary organisations and the community is very important to our bid.
"We need residents' input into the kinds of activity the visitors' centre can offer and how we can reach out to community groups of all ages and interests."
He said initial plans for the centre included an interpretation area, an education and event space, and an activity programme, with volunteering opportunities for people inside and outside the building.
Mr Turrell said that if the visitor project did go ahead, it was hoped the Queen would open the centre having recently become a patron of The Magna Carta Trust.
He said it was likely she would be at Runnymede on 15 June 2015 as part of the anniversary celebrations.
The council also wants to hear other suggestions for anniversary celebration activities at next week's meeting which is being held at Runnymede Civic Centre, Station Road, Addlestone.
People who want to attend need to contact the council by Monday.