Addlestone foodbank to help 'wealthy' Surrey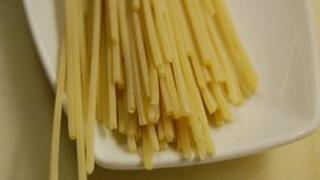 A foodbank is being set up in Surrey to help families experiencing financial hardship in what is perceived to be a wealthy county, organisers have said.
The Addlestone Foodbank, run by Beacon Church, opens in Runnymede next month.
Organiser Samantha Stapley said it would help people on low incomes and those facing crises such as redundancy, benefit delays, or unexpected bills.
"People forget that even wealthy counties like Surrey have pockets of deprivation," she said.
'Children in poverty'
She said the project would help people with food and also help them to find further support.
Ms Stapley said government figures had shown one in three children in the Addlestone Bourneside area were deemed to be living in poverty.
The area of Chertsey St Ann's scored 25.5% on the official Index of Multiple Deprivation compared with a national average of 21.6%, she added.
The foodbank project has received support from the company Procter & Gamble, Addlestone Methodist Church, Jubilee Church in Chertsey and Runnymede Borough Council, along with local schools that are also arranging collections of non-perishable food.
Organisers have collected a tonne of food but need to collect two more tonnes before the opening in February.
Suggested goods include soup, pasta, rice, tinned tomatoes, cereals, tea bags, tinned meat and vegetables, jam and baked beans.
People who want to take advantage of the scheme will need to collect vouchers from the Citizens Advice Bureau, Job Centre Plus, housing workers at Runnymede council and other agencies to exchange them for a three-day supply of food.