Teenagers given chance to exhibit art at Somerset House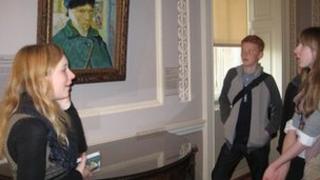 A university in south-east England is giving teenagers the opportunity to exhibit their paintings at a major art centre in London.
The University for the Creative Arts (UCA), which has campuses in Kent and Surrey, is running an art club for 14 to 16-year-olds.
The project, which combines photography, printmaking, sculpture and painting, will culminate in an exhibition at Somerset House in spring.
It is the second year of the project.
Sue Shearer, access and outreach coordinator at the UCA campus in Epsom, said: "The aim of the Saturday school is to nurture the talent of local young people, build their confidence and self-esteem and give them the opportunity to go on to further and higher education and careers in the creative industries.
"We've got some very exciting workshops planned including one in March where UCA honorary graduate and designer, Wayne Hemingway, will be coming in to lead a masterclass."