Bus driver badly hurt by falling tree amid strong winds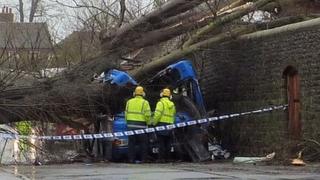 A bus driver suffered serious injuries when a large oak tree fell on to his vehicle during strong winds in Surrey.
The man had to be cut free from the bus after the tree, which was 6ft in diameter, struck the single-decker vehicle in Witley, Godalming, earlier.
Surrey Police said the driver had been taken to St George's Hospital in Tooting, south London.
Part of the roof of Epsom Downs racecourse's new £28m grandstand has been blown off by the high winds.
Surrey Police said traffic was delayed across the county as fallen trees closed roads, including the A287 Hindhead Road between Hindhead and Haslemere.
Two passengers on board the bus at the time of the incident, which happened on the A283 Petworth Road, were unharmed, according to operator Stagecoach.
Road closed
The tree also damaged a nearby building.
A spokeswoman for Surrey Police said: "The incident took place around 8.25am, when a large oak tree, measuring 6ft across, fell on the single decker Stagecoach bus in Petworth Road near the junction with Church Lane.
"It is believed that the driver, who was freed by fire crews, has suffered serious injuries and he is being taken to St George's Hospital in Tooting."
The force said the A283 had been closed in both directions to allow emergency services to deal with the incident.
"We can confirm that a bus operating on route number 70, between Haslemere and Guildford, was involved in an incident on White Hart Road in Witley," said a Stagecoach spokesman.
"The bus driver, who had to be cut free from the cab of the vehicle by the emergency services, has been seriously injured and is currently being treated in hospital.
"Two passengers were travelling on the bus and neither have sustained any injuries.
"Our first priority and thoughts are with our driver and his family at this difficult time."
'Turbulent winds'
Up to 20 "non-essential staff" had to be evacuated from Epsom Downs racecourse and four surrounding roads closed when a section of the 11,000-seater Duchess's Stand came loose at about 10:30 GMT.
A spokesman for Epsom Down Racecourse said part of the roof had come off and "exposed the insulation which is blowing towards our parade rooms".
In a statement Jonathan Spence, who handles publicity for the racecourse, added: "Following severe weather conditions and turbulent winds at Epsom Downs racecourse this morning, the Duchess Stand roof has been damaged.
"There were no injuries to anyone but as a result, and after liaising with the emergency services, the racecourse has been evacuated and all non-essential members of staff sent home.
"The emergency services are on site and are monitoring the situation."
Police have closed a number of nearby roads.
Strong winds also blew a stationary light aircraft on to its roof at Redhill Aerodrome.
Phil Wright, Senior Air Traffic Controller, said: "The wind was south-westerly, 25-40 knot and then it turned into a north-west 55-knot wind that lifted the aircraft up and turned it over.
"Luckily nobody was in the aircraft at the time."
He added: "Because of the wind was forecast to be so strong none of our aircraft were flying."