Frimley Park Hospital helipad 'icing on the cake'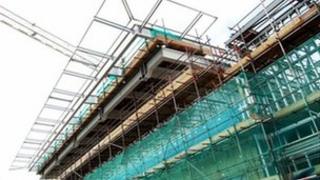 A helicopter landing pad is being installed on the roof of a Surrey hospital as part of the construction of a new £22m emergency department.
Sections of the helipad, which is due to be finished by mid-January, are being fitted at Frimley Park Hospital.
The new emergency department is due to open in late spring next year.
Clinical director Prem Premachandran said: "We're all really excited now the helipad has arrived. It's the icing on the cake and the end is now in sight."
He said the helipad would allow the hospital to receive critically-ill patients faster and more safely.
Sick and badly-injured patients will also be transferred by helicopter to specialist centres after they have been stabilised at Frimley.
Mr Premachandran said: "Although it's still surrounded by scaffolding, the building is really taking shape now and we are getting a feel for how it is going to look inside too."
The development had been "one of the biggest and most ambitious building projects Frimley Park has seen since it opened in 1974", he added.
The NHS is recruiting from its own staff for the standby fire crew who need to be present at every helicopter landing.