Staines name change marks bid to move on from Ali G links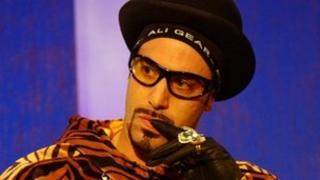 It is unlikely local politicians let out a victory cry of "booyakasha" when securing the renaming of Staines to Staines-upon-Thames.
In fact, they were probably relieved to finally put distance between the town's most famous fictional resident, Ali G, and his favourite catchphrase.
In the late nineties, the town became synonymous with comedian Sacha Baron Cohen's spoof rapper - to the dismay of some residents and councillors.
Branding expert Simon Middleton said it was now time to move on.
Mr Middleton, managing director of the brand advisory firm, Brand Strategy Guru, said they "have to get over it, have to live with it - and make the most of what the town offers".
He said: "Tell another story - if Ali G is telling one story, tell another - make it authentic and bring it to life."
Spelthorne borough councillors voted for the name change on Thursday, with the aim of promoting Staines's riverside location and boosting its economy.
But switching name would not be enough to improve the town's image on its own, Mr Middleton said.
"It's not necessarily a bad idea, but it has to be accompanied by action. Branding is about what you do, not what you say," he said.
"If they're going to change the name and cross their fingers and hope, then it's a waste of money. Just changing the name is meaningless."
'Ghost town'
Councillors have been touchy on the town's image in the past.
Last year, Councillor Colin Davis hit out at "negative reportage" after local indie band Hard-Fi compared Staines to a "ghost town".
He has also said the town's "ancient and honourable name" had been "sullied by negligent reporting by the media on one hand and perhaps irresponsible humour on the part of others, such as Ali G."
Mr Davis, the cabinet member for economic development, now hopes to focus on the positives. The commuter town, situated on the banks of the River Thames, is considered prosperous.
The council says retail vacancy rates stand at 8%, which is less than half the national average, and it has one of the busiest markets in Surrey.
The recently redeveloped riverside boasts canopied viewing points, stainless steel sculptures and walkways. Nearby is a museum and community centre.
Spelthorne Business Forum has also praised the town's "excellent transport links, employment opportunities and good schools".
'More relevant'
Some residents agree the name change is a bold move.
Maureen Vincent, who was running a charity stall for the RSPCA in the Elmsleigh Shopping Centre, said the town had not done enough to advertise its proximity to the Thames.
She said: "It's a nice name and it's more relevant than just Staines."
Joanne Dolby said: "It sounds quite nice, it has a nice ring to it. But rather than just change the name, they need to do more".
Of the town's association with Ali G, she said: "It seems a bit odd that he chose here. I have always thought that Staines is a nice place to live".
Others think the name change will have a minimal impact on the town's fortunes.
Isaac Woods, 67, who works for the charity The Dogs Trust, said: "It will probably take 20 or 30 years.
"I still call Henley-upon-Thames 'Henley'. Newcastle upon Tyne is just 'Newcastle', so it will take a long time."
'Pretentious nonsense'
Some of the younger generation are more critical.
Student Kerri Williams, 17, said: "It's an attempt to make it sound more posh but it won't work."
Nick Church, also 17, agreed. "It's probably a waste of money. People will still call it Staines," he said.
Staines Town Society has said the suggestion is "pretentious nonsense" and "absurd" while comedian Bobby Davro, who comes from Staines, described it as "snobby".
For Alex Tribick, who chairs Spelthorne Business Forum, the vote on Thursday reflected public opinion.
He said: "It's the culmination of two years' hard work. It was quite clear from the public consultation that we'd overwhelmingly won the argument.
"Last night's vote by the council was a ringing endorsement of what the public wanted."
There will be a formal ceremony on 20 May to mark the official renaming.
The council will be hoping Sacha Baron Cohen does not bring Ali G out of retirement.