Plans for Cherkley Court 'would spoil beauty spot'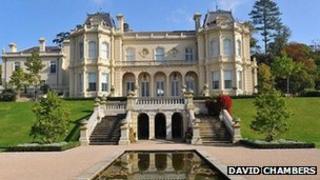 Plans to develop the former Surrey home of Lord Beaverbrook will damage an area of natural beauty, campaigners say.
Longshot, owner of Cherkley Court, plans to convert the house into a 40-bedroom hotel and health club and build a golf course on the estate.
Joel Cadbury, from Longshot, said: "We want to bring Cherkley back to life."
Tim Harold, from the Campaign to Protect Rural England, said: "Do we need another golf course? We already have 140 in Surrey."
The plans for the 400-acre estate, the former home of Lord Beaverbrook, also include two restaurants and a cooking school with herb and vegetable gardens.
'Falling visitor numbers'
Cherkley Court was open to the paying public until 2009, and Mr Cadbury said that the new plans would mean the estate would be open to the public again.
He said: "We want to bring Cherkley back to life. We are not seeking to increase the size of the existing footprint of the building."
Campaigners against the plans fear that the exclusive golf course would damage what they call "an outstanding stretch of beautiful land".
Mr Howard said: "A golf course would be artificial and spoil the landscape and there will be a lot of opposition.
"This is an area of outstanding natural beauty."
The estate was the home of press baron Lord Beaverbrook and his family between 1910 and 1995.
The Beaverbrook Foundation bought the estate after the death of Dowager Lady Beaverbrook in 1994 and ran the estate with the intention that it would pay for itself.
Falling visitor numbers meant it closed to the public in 2009.
The following year the estate was put up for sale with an asking price of £20m.