Government approves Shepperton Eco Park extension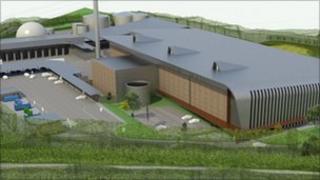 Controversial plans to extend a waste and recycling plant in Surrey have been given the go-ahead by the government.
Plans for the "Eco Park" at Charlton Lane, Shepperton, which will treat waste and generate power, were approved by Surrey County Council in June.
They were called in by the government under routine procedure. Communities and Local Government Secretary Eric Pickles decided no review was needed.
The plans had been fiercely opposed by local people and the borough council.
Pollution fears
Surrey County Council Leader David Hodge said: "This is very good news for the people of Surrey. The Eco Park will have huge financial and environmental benefits for our county."
Transport and environment cabinet member, Councillor Ian Lake, added that the waste plant would help the council reduce its monthly £600,000 landfill tax bill and also reduce greenhouse gases by diverting waste from landfill.
Residents living nearby had expressed fears the extension would lead to increased pollution and traffic problems.
Borough councillors also registered a "very strong objection", saying they could not support plans to build in the green belt which did not show there were "very special circumstances".