Le Mans car fetches record £843,000 at Weybridge auction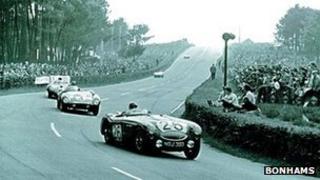 A vintage car involved in the Le Mans disaster of 1955 has sold for a world record £843,000 in Weybridge.
The Austin-Healey 100 special test car competed in the race in which 83 spectators were killed and many more injured.
After being kept in storage for 42 years, the car was restored.
"This is a fantastic result and a world record for any car of this make at auction," said a spokesman for the auctioneer Bonhams.
"The auction went on for about 10 minutes and there was a tense, excited and hushed atmosphere in the room as four bidders competed for the car.
"We had bidders in the room and over the phone, but the car finally went to a private buyer who was in the room."
The vehicle competed in both the 1953 and 1955 Le Mans 24-hour races, finishing 14th overall in 1953.
Lance Macklin was driving the car at the Le Mans race in 1955 when it was struck from behind by Pierre Levegh's Mercedes-Benz 300SLR.
Levegh was killed in the crash which sent large parts of debris into the crowd in what has been described as one of motor racing's most horrific crashes.
French authorities impounded the Austin-Healey before releasing it back to the Donald Healey Motor Company.
It is one of only four special test cars from the company's Warwick factory and still bears its works racing team road registration NOJ 393.
It was repaired and restored at Warwick and returned to competition in private hands in the late 1950s and into the 1960s.
It was bought by its current owner in 1969 and has been in storage and left untouched.