Thousands strike in Surrey over public sector pensions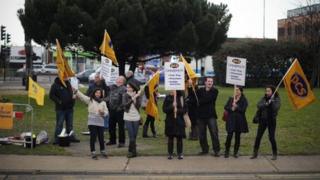 Thousands of people have gone on strike in Surrey as part of public sector action over planned pension changes.
Hundreds of Surrey schools were closed and marches and rallies took place in Leatherhead and Woking.
The county has seen pickets outside schools, council offices and leisure centres by members of up to 25 public sector unions, Unison said.
The government has accused union leaders of wanting to "wreck" economic recovery and cause public misery.
'Patient priority'
Unions taking action include Unison, Unite, the GMB and several teaching unions.
South East Coast Ambulance Service asked people only to call in life-threatening emergencies.
Director of clinical operations Andy Newton said: "We are responding to all 999 calls.
"However, to ensure that potentially life-threatening emergencies get the response they need, we continue to ask the public to consider very carefully whether they need an ambulance or can seek alternative assistance."
Heathrow operator BAA had earlier warned of possible "gridlock", saying passengers could face potential 12-hour delays getting through passport control.
But the warnings of massive delays failed to materialise, with passengers saying border controls were "better than usual".
'Ramping up' disruption
Union officials accused the government of "ramping up" possible airport disruption and claimed that "under-trained" staff had been drafted in to cover striking immigration and passport workers.
"Some of those on duty today don't have proper security clearance. They are not qualified to do the job properly, which is a concern," said an official from the Public and Commercial Services (PCS) union.
Unions at the Royal Surrey County Hospital in Guildford said about 300 staff were on strike. The hospital, however, said about 100 people were on strike and no scheduled operations had been cancelled.
About 85 outpatient appointments had been rescheduled, a spokeswoman said, and a creche was set up to help staff whose children were affected by school closures.
Surrey Police said that fewer than 100 civilian staff were on strike, and there had been a picket outside its headquarters in Guildford.
Surrey County Council said all of its libraries and day centres remained open, but 247 schools were closed or partially closed out of 375 state schools in the county.
It said Surrey Fire and Rescue Service was largely unaffected, along with other council services including community recycling centres, adult social care and children's social care.
Unions object to government plans to make their members pay more and work longer to earn their pensions.
The government said it was trying to make the pension situation fairer for taxpayers and the plans represented a "good offer".