Redhill airfield may appeal as runway rejected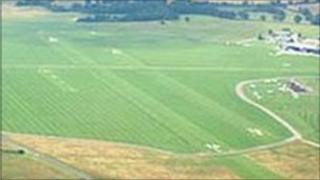 The owners of a grass airfield in Surrey have said they may appeal after a planning application to build a hard runway was turned down.
Redhill Aerodrome wants to replace its three grass runways with a concrete one, giving it potential to increase flights from 60,000 to 85,000 a year.
Reigate and Banstead Council turned down the plan this week. It goes before Tandridge planners on 15 December.
Aerodrome boss Jon Horne said it would then consider whether to appeal.
"We are not ruling anything in or out at the moment," he said.
"We do not believe our case has been damaged by the Reigate and Banstead decision."
The aerodrome, which is home to more than 20 companies employing 350 people, has been in operation for about 80 years.
Its green belt site straddles the border between Tandridge and Reigate and Banstead, whose councillors turned down the application by nine votes to seven.
'Strong case'
Mr Horne said his company, Redhill Aerodrome Ventures Ltd, (RAVL) was disappointed but the vote was close.
"We still believe we have a very strong case for putting the runway in place," he said.
"Its impact on the green belt is very, very minimal and that is outweighed by the economic benefit."
A study carried out for RAVL shows the development could create 170 jobs and bring £8m a year into the local economy.
Opponents, including East Surrey MP Sam Gyimah, said the new runway would create an unacceptable level of noise and pollution and destroy the landscape.
More than 1,000 people signed a petition against the plans.
"The green belt is about openness," said Chris Hoskins, of Nutfield Conservation Society.
"These proposals would start developing the green belt.
"It may be a concrete runway but it would be visually intrusive and create a lot more traffic and more noise over the area."