Staines name-change approved by borough cabinet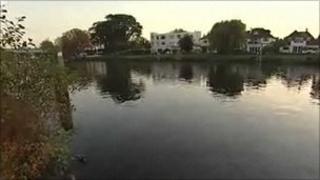 Plans to rename the town of Staines as Staines-upon-Thames have been approved by leading councillors.
Spelthorne council's cabinet hopes promoting the Surrey town's riverside location will help boost its economy.
A council report said 664 people took part in a consultation, with 234 responses against the change.
Staines Town FC has dismissed the plan, but the council said if it helped businesses survive the recession it was a good idea.
'Intelligent marketing'
Angie Payne, commercial director of the football club, said: "It is a bit poncy. I have lived in the borough for 33 years. There is nothing wrong with Staines."
Councillor Colin Davis, the borough's economic development spokesman, said: "There was lengthy consultation and an enormous number of people responded and I'm afraid those who don't want the change have lost two to one."
The new name was about "intelligent brand marketing", he added.
He said: "If the people who live there think it will help them to survive what looks like being the worst economic recession in recorded history, I would say it's a good idea."
Spelthorne council also wants to tackle negative perceptions of Staines.
The town was lampooned by comic character Ali G, created by comedian Sacha Baron Cohen.
More recently, Indie rock band Hard-Fi described it as "like a ghost town".
After Staines became the home of Ali G, Staines FC adopted the spoof rapper.
Staines Town fans now call themselves the Massive - which is what Ali G called his followers - and supporters dress up as Ali G for big competitions.
Spelthorne council's plans still have to be considered by the full council in December.