CCTV of Walton poppy theft suspects released by police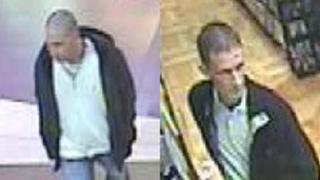 CCTV images of two men suspected of stealing a poppy collection tin in Surrey have been released by police.
The theft of the Royal British Legion money took place in Walton on 8 November.
The two suspects approached the tills of the HMV store in New Zealand Avenue, shortly before 13:00 GMT.
The men distracted the member of staff serving customers and then stole the collection tin, which had been tied to the till.
One of the men concealed the tin in his jacket pocket and they both walked around the store for several minutes before leaving.
The first suspect was white, 5ft 6ins tall, in his late 30s or early 40s, with short light-coloured hair and was wearing a grey cardigan and hooded top, white T-shirt, blue jeans and white trainers.
The second suspect was also white, between 5ft 4ins and 5ft 6ins tall, in his late 30s or early 40s, with short mousy-coloured hair and was wearing a black coat, blue jeans, white shirt and red trainers.
Det Con Nick Beer, of Staines CID, said: "Stealing from a charitable cause is an appalling offence and I can assure Walton residents we are doing everything possible to bring the two callous individuals responsible to justice."