Queen visits Guildford Cathedral and opens Redhill campus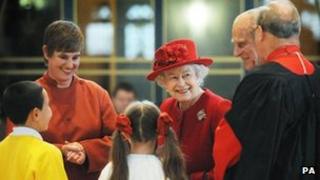 The Queen and Duke of Edinburgh have celebrated the 50th anniversary of the dedication of Guildford Cathedral at a service of thanksgiving.
They were joined by 16 children from Queen Eleanor's junior school in Guildford who were among community groups meeting the royal couple.
Bishop of Guildford, the Right Reverend Christopher Hill, hosted the visit.
The Queen and Prince Philip attended the ceremony to mark the consecration of the cathedral in 1961.
Speaking before the visit, Queen Eleanor's head teacher Roger Blackburn said the eight boys and eight girls were very excited.
'Fantastic honour'
"We were picked because geographically we are the closest school to the cathedral and we have our services there," he said. "We are very lucky to be chosen.
"All the children have been told to bow or curtsey and address the Queen as Your Majesty first time and then ma'am afterwards.
"They are all very well aware of what they are going to do and it is a fantastic honour for us."
Sue Kirk, who saw the Queen on her visit in 1961, was also at the cathedral representing the Oakleaf Enterprise charity for people with mental health difficulties. She was at the primary school 50 years ago.
Student displays
"We all had the day off because the Queen was coming," she said. "I can remember lining up along the old A3 waving our flags and just getting a glimpse of this great big black car that came past."
The royal couple later went on to East Surrey College at Redhill, where they officially opened the new £63m Gatton Point campus and had lunch.
They also met students training to be bricklayers and mechanics, and saw displays of theatrical make-up in the hair, beauty and spa areas.
A gallery of creative works from the Reigate School of Art, Design and Media was also exhibited.
The campus features a two-storey learning resource centre for group and self-study, an oval auditorium, salons and spa, a range of technology workshops, recording studios, sports hall and a fitness room.