McLaren's Woking supercar factory opened by David Cameron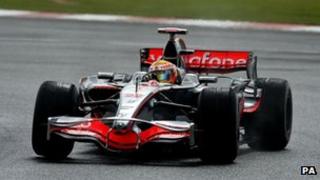 A new £50m factory to build McLaren supercars has been officially opened in Surrey by David Cameron.
The McLaren Group has its Formula 1 team headquarters in Woking and their Formula 1 cars are also developed in the technology centre on the site.
The company has now built a new state-of-the-art production centre for the company's high performance sports cars.
The new factory has created almost 350 new jobs in the technology sector.
'Cultivated mystery'
Jonathan Lord, MP for Woking, said: "It's absolutely at the cutting edge of technology.
"The McLaren production centre has a footprint of 20,000 sq m - a total floor space of about 38,000 sq m - and it generates significant amounts of business."
The new MP4-12C will be made in the new factory and the sports car, which has been built using F1 technology, has already sold out during the first year's production.
According to Mr Lord, McLaren already has plans for further expansion.
"They do have an outline planning application in to expand their site on to the eastern side of the A320 for an applied technology centre," he said.
Prof John Watts from the University of Surrey teaches design and manufacturing in composite materials. He has been working with the designers at McLaren on how to use carbon fibre in F1 cars to get the best performance.
"It [the new centre] is absolutely fantastic. To actually go there as part of my day job is wonderful. It is so elegant and impressive inside. It has cultivated mystery," he said.
"McLaren make a big impact on Woking. They will be recruiting some local people to the factory, so from the Woking area it's going to increase employment which is absolutely essential in the current recessionary climate.
"From the university's perspective, hopefully they will recruit more of our graduate mechanical engineers."