Hindhead businesses lose custom after tunnel opens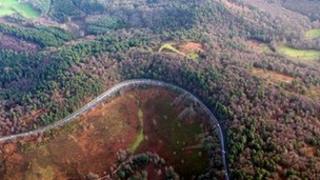 Businesses in Surrey say they fear for the future after losing up to half of their customers since the opening of the Hindhead Tunnel.
The A3 tunnel, which opened in July, took 30,000 vehicles a day away from the traffic bottleneck at the village.
But traders said the loss of passing trade, along with work by the Highways Agency (HA) to restore the old road to heathland, had taken away custom.
The HA said business owners affected could qualify for compensation.
The tunnel diverted the London to Portsmouth road away from the Devil's Punch Bowl beauty spot.
After it opened the HA began breaking up the old road to return the land to nature.
Alan Cooper, who runs Cooper Brothers house clearance and furniture store, in London Road, said people were avoiding the village.
"We have had 13 lorries going up the road at least 10 times a day," he said.
"It's put people off. People are very confused about which way to go because of the roadworks where the old traffic lights were."
He said Coopers would be applying for compensation but feared that the business might not be able to survive after losing 50% of its customers.
"If people aren't there, you can't sell anything to them," he said.
"It is getting desperate. All the businesses here are suffering."
Sonya Rehman, owner of the Devil's Punch Bowl Hotel, said she hoped customers would return to visit the National Trust beauty spot when the roadworks were finished.
"I can see why people don't want to come to this area at the moment," she said.
"Once all these roadworks are finished we need to get businesses together to promote Hindhead.
"We can become a destination because of the natural beauty but at the moment we don't really know which way the area is going."
The HA said it was working hard to keep disruption caused by restoration work to a minimum and was on course to complete the lion's share of the work by the end of the year.
Homes or businesses affected could be entitled to claim compensation and should call its information line.